May 2022
WEF Davos GreenShare
Sharing WEF resources with you .. the people of Davos. Re-using things and avoiding waste. That is what this project is about. With plants donated by WEF-exhibitors we will create a pop-up plant store on May 27th and 28th. Plus we will share furniture and other items over our channels, so you can pick them up at the location and time given!
Read more below!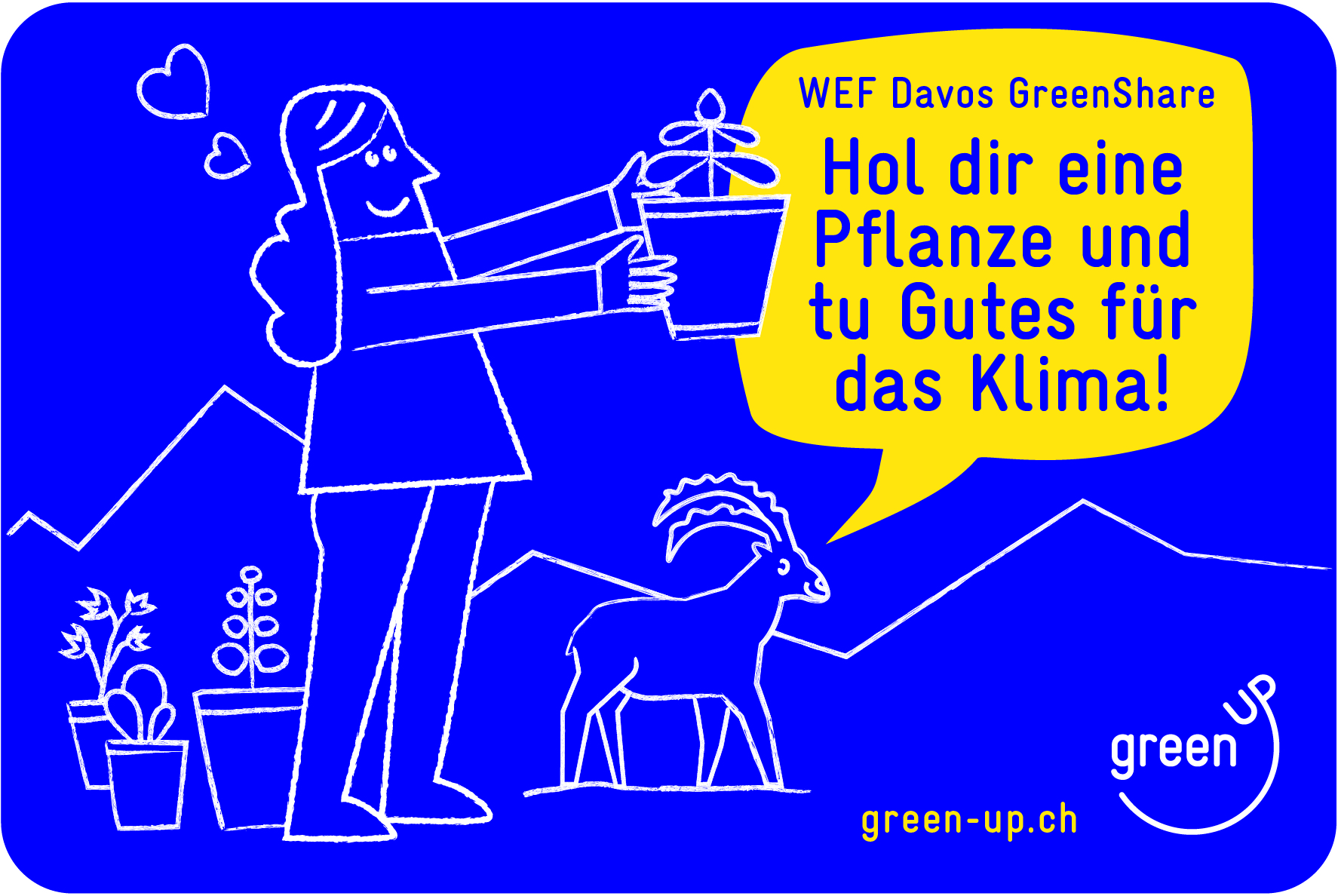 Pop-Up Plant Shop!
What is it? 
A great mix of small and bigger plants that were used at the WEF and are looking for a real home .. 
When?
Friday 27th May from 15.00 – 17.00
Saturday 28th May from 10.00 – 12.00
Where? 
Langlaufzentrum, Hertistrasse 4a Davos
How does it work?
1. Come by and check out all the plants there are
2. Choose the plant(s) of your liking
3. Donate what its worth to you
4. Bring the plant(s) home or make somebody happy with them! 
Furniture and more
GreenUp also shares online images and information of furniture and other cool items that organisations have left during the WEF, for you to pick up at their place. 
How does it work? 
1. Follow GreenUp Davos on its instagram or facebook channel @greenhubdavos
Or check out the Kleinanzeigen Facebook page. 
2. Read well the description and information about the pick-up location and time
3. Pick up the item within the given time and bring it home 
We don't know how many items will be shared with us, but we are doing our best to make sure enough companies know about it. Here is the page for companies operating at the WEF.  
>> download and share the flyer
Questions?
Phone / WhatsApp / Telegram: +41786813052
Email: davos@green-up.ch
Thanks!
We want to express a BIG "Thank You" to Stefan Pfister and Cyril Ackermann to make this happen.
Please also do go to the "4reasons" pop-up restaurant; and enjoy left-over food from 23rd of May to 26th of May!
Below more partners ..
Thank you to all those supporting this project:
CvB Davos I City of Davos I The World Economic Forum I 4 reasons I Langlaufcenter I A. Birkhofer Design I Davoser Zeitung